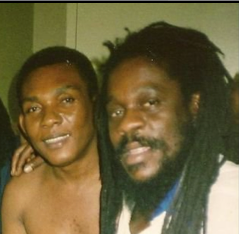 In March, 17 music industry stalwarts were recognized by the Jamaica
Reggae Industry Association (JARIA) at its Honour Awards Ceremony at the
Edna Manley College in Kingston.
The event brought the curtains down on JARIA's Reggae Month celebrations.
Some perennial names including Ken Boothe, Judy Mowatt and The Paragons
received plaques, but there was also recognition for respected veterans
like bass player Val Douglas, producer Clive Hunt and broadcaster Winston Williams.
Boothe brought proceedings to a close with a typically rousing performance
that included his hit songs Everything I Own and Freedom Street. He
received his award from singer Tarrus Riley with whom he did an impromptu
version of Say You.
Also receiving awards were sound system operators Winston Blake of
Merritone and Noel Harper of Kilamanjaro; engineers Michael Reilly and
Dennis Thompson; former Third World member Michael ?Ibo? Cooper for
mentorship at the Edna Manley College; guitarist Dwight Pinkney; producers
Wycliffe "Steely" Johnson and Cleveland "Clevie" Browne, and the Fabulous
Five band which has been together 40 years.
The 2011 cast included some of the pioneers of Jamaican popular music.
That August category included four greats of the rock steady era: Boothe,
The Paragons, Delroy Wilson and Phyllis Dillon.
Wilson and Dillon, who recorded mainly for rival producers Clement
"Coxson" Dodd and Arthur "Duke" Reid respectively, were honoured
posthumously.
Bass player Lloyd Parks, founder of the We The People Band and former
member of the legendary Revolutionaries band at Channel One, received the
Lifetime Achievement Award.
The evening featured strong performances from The Tamlins, Mary Isaacs,
Prilly Hamilton and Pam Hall. The Tamlins paid homage to Hunt with a
version of their hit song Baltimore on which he played horns, and also did
a medley of Paragons hits.
Isaacs did stylish renditions of Breakfast in Bed (on which Douglas
played), and the Dillon hits, Don't Stay Away and Perfidia. Hamilton
enthusiastically delivered Wilson's Dancing Mood and Smooth Operator,
while Hall put a classy jazz spin on Mowatt's Black Woman.
Browne accepted the Producers Award on behalf of his longtime friend and
keyboardist Wycliffe "Steely" Johnson who died in 2009 at age 47. They
were responsible for most of the hit songs during dancehall's golden age
of the late 1980s and early 1990s.
Howard Campbell