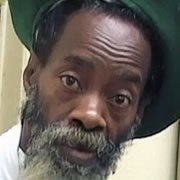 Greenwich Farm music veterans King Shark and Earl 'Chinna' Smith have teamed up to release "Chinna's Way", an instrumental album featuring the legendary session guitarist.
"Chinna's Way" was produced by King Shark for his Montego Records. It is scheduled to be released today. King Shark says he and Smith have been friends for over forty years, long before the musician hit it big as a member of the popular Soul Syndicate Band alongside bassist George 'Fully' Fullwood, fellow guitarist Tony Chin and drummer Carlton 'Santa' Davis. "Chinna used to walk through the area with him guitar and rehearse with people like (singers) Earl Zero, Ro Taylor and Prince Alla," King Shark recalled.
Some of the ten songs on "Chinna's Way" were recorded as far as back as the early 1980s at the Tuff Gong studio in Kingston, Jamaica. Others were done while King Shark was in Jamaica in March. Veteran musicians Sly Dunbar (drums), keyboardist Robbie Lyn, drummer Leroy 'Horsemouth' Wallace and bassist Christopher Meredith worked on "Chinna's Way" which features songs like Black Man and Cry Freedom.
'Chinna' Smith is one of the most respected musicians in reggae history, playing on countless hit songs by Bob Marley, Dennis Brown, Johnny Clarke, Rod Taylor, Jimmy Cliff, Lauryn Hill and Amy Winehouse. Based in Pecos, New Mexico, King Shark is a product of Greenwich Farm's rich music scene. He has produced songs by a variety of acts including Charlie Chaplin, Captain Barkey and Prince Alla.
Earl Chinna Smith: Chinna Way CD
All songs and guitars by Earl Chinna Smith. Bass: Axe Man, drums: Horsemouth Wallace, bornabus, percussion: Scully, Harry T & Sticky, horns: Glen Costa, David Madden, Nambo, keyboard: Robby Lynn.
Earl "Chinna" Smith -- Good Times
Earl "Chinna" Smith -- And a Rock
Earl "Chinna" Smith -- Fade Away