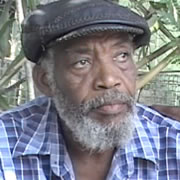 'Jah Bible" Succeeds at Singing, Producing Simultaneously
In the Reggae business where there are so many singers and producers, it is rare to find an individual who succeeds at both singing and producing simultaneously.
Errol 'Jah Bible' Mais is the man. Born and raised in Greenwich Town, Kingston, he was the one of the first producers to spot the talent in such popular artists as Sammy Dread, Phillip Frazier and Peter Ranking.
As a member of the 60′s group, The Jetters. (which consisted of Earl Zero, Prince Allah and Phillip Frazier) 'Jah Bible', as Errol is popularly known, said The Jetters did not record any of their materials which included "None shall Escape the Judgment", made popular by Johnny Clarke.
The group mostly did night club 'gigs' at the time. Eventually Errol and his buddies called it a day and disbanded then he went solo. He claimed music is an inborn thing for him.
Atrists like Ken Boothe, Alton Ellis and Errol Dunkley were Errol's earliest influences. His first release as a solo artist was a tune called 'Dancing Time'. His biggest hit thus far is, 'Read Up Jah Bible'.
Errol said that he saw young talents as Sammy Dread, Tayan, Michael Prophet and Little John, going to waste. And he knew that with proper guidance and good promotion, these guys could make an impact on the music scene. Yes anyone who's familiar with any of the above names, will agree with me that Errol has an eye for talents.
On how he feels about himself, Errol said "The people should give me the ratings, not me rate meself." He said three of his last six releases became top hits. "African Girl"- Sammy Dread; "I'll Never Let You go" – Phillip Frazier; and his own "Read up Jah Bible", "so my work speaks for itself"…he proudly declares. The relationship with his artists, he says is "tight knit" there is no confusion concerning royalties, he feels he robs himself, "any profit made goes back into the business."
Errol is aiming to hit the British charts with a song of his own. He intends to visit England soon, due to the demands for his works. His present purpose here in New York is to uplift his music production…but he confessed: "This is very hard work due to how this business is here." To improve on Reggae, Errol feels "Jamaica should be a main distribution centre…forcing the sellers them here a foreign to come for de records that deem want, ridding de business of ripoffs and royalty hold out..dat's the system Bob (Marley) used."
He also thinks producers should not allow the artists to sing garbage…but to involve themselves more in the business end because Reggae has reached international status.
To the youths who want to go into the music business, Errol advises that "anything you do…do it constructively in this time- put 100 percent of yourself into your education."
'Jah Bible' has received "positive reaction" from his fans in New York and he knows no matter what "heights" Reggae takes him, he can't afford to lose contact with the people who support him. He is now laying tracks for some new tunes that will soon be released.
By Chris Richards