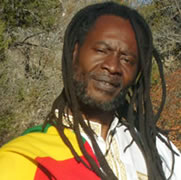 For Alphanso Henclewood getting from Kingston Jamaica to New Mexico has proven to be a long journey. After 14 years of spreading the word of Rastafari around the US, Henclewood, aka King Shark has decided to plant his roots in the City Different.
A talented singer in the "Dance Hall" style of reggae, Henclewood has been appearing all over town with the Brotherhood Sound System, and is also establishing Santa Fe as the address of his record label, Montego Records. After stints in New York city and the Phoenix area, the King has found a permanent place to set his throne. "It's the mountains," says Wood, "they remind me of Jamaica."
King Shark -- Got To Get It Going
King Shark -- Thanks Be Unto Him
King Shark sings Blackman


King Shark from his new album, coming soon!
King Shark from his new album, coming soon (part 2)!
Wood grew up in Kingston's Greenwich Town section in the 70′s, an exciting and dangerous time in Jamaica's capital. "In Jamaica," says Wood, "when you come from a section, there are many divided politics (between sections)" around which the youth form gangs in order to protect themselves. "I tried to keep myself out of criminal activities…" he recalls and in doing so, discovered Rastafarianism. He began attending the Ethiopian Orthodox Church, a congregation comprised of Rastas who accept the late Ethiopian emperor Haile Selassie as a direct descendent of King David who obtain their dogma from ancient version of the Bible. Many prominent figures in reggae music attended the same church, including Bob Marley, who acted as a youth minister to teenagers. "He used to come by my neighborhood with Bunny Wailer and we would go to the Greenwich fishing village to get fresh fish."
This exposure to prominent artists such as Marley and Wailer showed young Alphanso the value of music as a means of making people conscious of Rastafarianism. "I see myself as a messenger,' says Henclewood, who didn't become serious about singing until he moved to New York city in 1986. Though very proud of his homeland, he felt forced to leave Jamaica because of "too many murders in the community." Wood developed his skills in the New York dance halls, where he and his band would perform on weekends.
"For a while we had the number one dance hall song, Downbeat,"  he says.
When asked about his majestic and aquatic stage name, the Shark grins sheepishly, "Do you really want to print that?"
Eventually he explains that he was the only male among 8 siblings, and his mother referred to her only son as "the King". The latter part of his title stems from a child hood fishing experience. "I caught a big mouthed fish and I was screaming, 'Its a shark!' It really wasn't but all my friends started calling me 'Shark' ".  A stage persona was born.
Henclewood's Montego Records has just released its first CD, King Shark and All Star Friends. The disc, available at King Shark's gigs and several retailers around town, was recored in Jamaica at legendary studios like Channel One and Tuff Gong. For the project, Henclewood recruited many of his childhood friends, many of whom have gone on to perform with such Reggae stars as Ziggy Marley and Jimmy Cliff.
Produced and arranged by Henclewood, the album contains tracks by 10 other singers as well as three tracks featuring vocals by King Shark himself.
Henclewood anticipates a December release for a follow up comprised of all original tunes sung by himself and he doesn't see an end to the possibilities of his record label. "I have so much music recorded,even after I put out this next CD, I will release more 'All Star' projects". Other plans for Montego Records will include bringing lesser known Jamaican musicians to Santa Fe to perform and record.
A clue to Henclewood's philosophy can be found on the cover of King Shark and All-Star Friends that depicts Haile Selassie riding in a car with John F. Kennedy in front of the White House. "It represents unification," says Wood, who hopes that some day racism will be eradicated. This desire was a deciding factor in choosing Santa Fe as his home.
"In Santa Fe, people have unity. There are no gang wars; people make you feel welcome—the Indian people, for instance, who welcome anyone to their ceremonies. I choose to live with people who have love in their hearts."