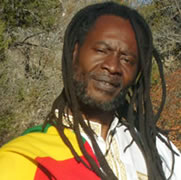 King Shark was born Alphanso Hencelwood in Greenwich Town Kingston Jamaica on May 13th, 1958. For King Shark music is the food of life. I sing and produce music for several reasons. I sing because it feeds my soul. I sing to spread a message of love, strength, unity and positivity. I also perform to generate money to help the less fortunate. There are so many hungry mouths to feed. What a blessing to be able to turn soul food into food people can actually eat. To use my gifts to help others means that I take my blessings and I multiply them by sharing with others.
Every Reggae artist has contributed to the rich history of this Music. From Ska, Reggae was born, from Reggae, Dancehall was born. Each artist has a style that makes them unique. Of all the Reggae music ever created, roots is closest to my heart. Bob Marley, Jacob Miller, Culture, Burning Spear, and Israel Vibrations are all good examples of Roots music. You don't find many new bands with a Roots feel. Those who carried the torch of Reggae with a Roots style are getting older or have passed away. As a Reggae artist, I feel it is my duty to keep the Roots alive; alive in me, alive in the music and alive in the children. My musical style comes from a deliberate choice to make sure that Reggae stays Reggae and by that I mean "Roots".
King Shark -- Got To Get It Going
King Shark -- Thanks Be Unto Him
King Shark sings Blackman


King Shark from his new album, coming soon!
King Shark from his new album, coming soon (part 2)!
As I mentioned, I make music for several reasons. I make music as a means of empowering the audience. I also make music so that I can help feed the poor. Another very important reason I make music is to raise money for music programs for the youth, It is important that children with talent and a passion for music have the ways and means to nurture and foster those interests. Through the youth we can keep the music alive while keeping the children lively as well. In Jamaica some children have very difficult lives. The music programs give them joy and a sense of community. Music is a way for the children to express themselves. It can also offer an element of continuity that may be lacking in their day to day lives.
My own childhood is a good example of how music inspires children. During my childhood music was a way of life and I was surrounded by it every day. During the 60′s and 70′s the music industry was thriving in Jamaica largely due DJ competitions. Back then they played dub plates and vinyl. My favorite DJ (selector) was U Roy and my favorite sound system was King Tubby Hi-Fi. In Jamaica Djs were called selectors. Selectors were everywhere and each had their own style. They filled the streets with music creating an ambiance of love and celebration, where people could dance and enjoy themselves. Music was the glue that unified the people. Music dissolved distinction of age, race, class, religion and political preference.
Those who inspired me in both production and performance were my childhood neighbors. Artists such as: Frankie Paul, Barrington Levi, Prince Alla, Peter Rankin, Earl Zero, Michael Prophet, and Rod Taylor. Sometimes Prince Alla would show up at my window in the morning to share a song with me which he had written the night before. Producers Bunny Lee, Jack Ruby, and Bertrom Brown all lived within three blocks of my house. I would often hang out at recording studios such as Channel One, Harry J, Tuff Gong, and King Tubby's. When I was fourteen Bertrom Brown encouraged me to sing, but back then I was too shy. Although I enjoyed singing at an early age and joined a choir when I was eight years old, I was not ready to sing alone. I did sing here and there, picking up a mic for fun at various dance halls in Greenwich Town in my early twenties, but serious performance came a little later.
When I was 26 years old Kingston had became a violent and dangerous place and my Mom sent me to live with my aunt in Toronto, Canada. From there I made my way to New York City. That was in 1984. It was there I met Tony Screw who was the selector for Downbeat Ruler Sound System. We performed together in New York City for three years.
In 1990 I moved to Phoenix, Arizona. There I joined The 602 Band. We were together for five years. We toured in: Arizona Texas, Louisiana (New Orleans), Florida and New Mexico. We went to Santa Fe, New Mexico for a gig and stayed for three days. I fell in love with New Mexico and moved to Santa Fe in 2000. A year later I formed a band called King Shark Solutions. For five years we performed locally and toured in New Mexico, Arizona and Colorado. In that same time frame I used to go to Dallas to sing with a band called Irie Connections. Since then I have been singing with various bands, but more of my time has been spent producing rather than singing.
Production has been interspersed throughout my musical career. I have produced albums for artists such as: Prince Alla, Phillip Fraser, Rod Taylor, Ernest Wilson and others. In 1991 Bertrom Brown (the producer I had known since childhood) said to me "As long as you're recording other people, you should record yourself". I had been told this my whole life by musicians, singers and producers and finally I was ready. I began writing lyrics and in 2013 I produced an album of my own songs entitled Crucial Times on my own label called Green Farms (a name which came from Greenwich where I grew up). I also have a label called Montego Records!.
This present leg of my journey is about continuing to sing and produce Roots music – music that makes sense. I will continue to spread my message of roots and culture (the essence of Reggae music). The focus now is to use my music to support the youth because they are our future. I want to make sure that Jamaican children have schools, food and music. So keep your eyes and ears open for Green Farms and Montego Records 'cause nuff music soon come – seen?