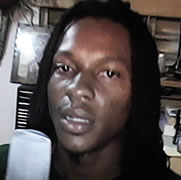 This sweet sounding roots, Lovers Rock singer from St James has been sharpening his skills from the age of 9 around the community. Winning a number of local talent within his community gave him the confidence and motivation to continue his musical vision. After leaving St James High School Nature received good training working the hotel circuit of Montego Bay and Ocho Rios to Negril performing at all the hotels and developing his talent in front of live audiences. As much as he enjoyed the live entertiinment he also wanted to record so he was encouraged to go to Kingston. He moved to Kingston in 2003 where he settled in the Greenwich town and took up with Jermaine Robertion of Blacka records. He was brought to the attention of the public with his song ,"Deity Closet", which caught the eye and erars of King Jamming who quickly signed him to contract to begin recording a new album. Tracks released from this album as well as a video gave him national as well as, international exposure.
In 2007 international footballer, Bibby Gardner who was setting up his own music label heard tracks from Nature and brought him on board his label. This seemed to be the move that changed Nature's direction because Bibbe's music was played on many radio stations.
Touring Europe in 2009, he sold out to audiences and created a network of fans across the continent. His recent works with singer producers Alphanso Hencel on the King Shark label will definately strengthen his appeal in North America. He is one of the brighter starts in the reggae armory in 2010.