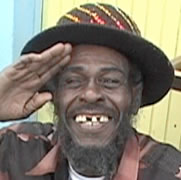 Prince Alla is one of Reggae's Foundation Roots singers and through the years has remained true to his roots. A product of the Greenwich Town, Alla first recorded for Joe Gibbs on his first recording session with a song entitled, Hope Some Day. This led to a number of songs that led him to found the group Prince Alla and the Rassees. He recorded the LP, Heaven is My Roof, for young producer D.J. (Tappa Zuki) which contained the hits; Bozrah and Funeral. He then started to record for Betram Brown Freedom Sound Label and the hits kept coming: Great Stone, Bucket Battom, Lot's Wife and dozens more. In 1974 he recorded the classic, Lady Deceiver and Give More Love for producer, promoter Tony Mack which are included on the CD, Only Love Can Conquer, distributed by London Record Company Blood and Fire records. In 1985, he toured the U.S. as part of the High Times Records Record Review with Muta Baruka, Earl "Chinna" Smith, Devon Russell and the High Times Players.
In the history of Cultural Roots Music, Prince Alla is a giant. With the release of of his LP, Only Love Can Conquer brought him to Europe frequently where they embrace his positive message. In 2000, Prince Alla added Africa to his touring circuit increasing a new generation of youths to his repertoire and giving him a current position in contemporary music.
Prince Alla, Hero of Jamaican Roots Music
Interview with Prince Alla in 2010
Prince Alla -- In My Dreams

Prince Alla -- New Album from RastaLives.com!