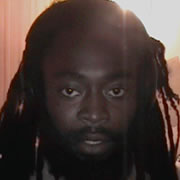 GIVEN NAME: JHEMEL FRASER
DATE OF BIRTH: JAN 5 1981.
ENTERTAINER: RAS FRASER JR.
I did my first show when I was 7 years old, at the Fort Clarence Beach in 1988. It happened like it was yesterday.  I was called on stage by my father. The feedback from the crowd was tremendous.  The following week, I did annual Father Binns' show in Green Farm which really gave me a strong sense of music. There, my career took off when I recorded my first single at the age of 19, titled No Escape, a song I wrote  in 1999. In that same year, I did songs like Inna the Giddion, Come come come away, featuring Philip Fraser and myself, Gather Around. I also released my first album titled Roots Man Time, featuring Philip Fraser and Ras Fraser Jr., under the Razor sound label, which is doing good overseas today and the album is now available in all leading record stores worldwide and also on CDs, LPs and cassettes. I also record singles for other producers, songs like Hard Times, for Bunny Grenarl, Let the Words of Thy Mouth, Jah Jah Love So Sweet, featuring John Mouse, Ras Fraser Jr., Azullu on the High Fence label; Free Willy label: When Mi Buss, True Girl Friend; Vertex label: Mama Cry, Boblyon World, Love Yourself, Show Love.  On the Chilla label: Sweet Reggae Vibes, DYM. I recorded for Danger Zone recording label, with a new single out on the Payback Riddim titled Tem Dem and on the Jornery Riddim, Trod, by Ras Fraser and Cutty Corn.  I am working with Anthony B. and Cutty Corn , so look out for some good songs! I have performed on shows overseas like Three the Hard Way in California, More Love in Miami, Oldies but Goodies in Canada, Father's Day Extravaganza in New York, Young Lions in Brooklyn and some local shows I perform on CureFest, West Kingston Jambree etc.
Bless Love coming from Ras Fraser Jr. True the Powers of the Most High Jah Rastafari.
Blessed Love to all who made it.
Ras Fraser -- Jah You Are